Known by fans as the "Cathedral of Bullfighting" and officially known as the Plaza de Toros de la Real Maestranza de Caballería de Sevilla, alongside Las Ventas in Madrid, the bullring in Seville is one of the most important in Spain and one of the most visited tourist attractions in Seville.
Originally built from wood, this famous bullring started to be constructed in the year 1761. Since then, it has been reformed several times and has become part of the history, not just of bullfighting, but of the city as a whole.
Exploring the Bullring
When you visit the Maestranza Bullring, you can follow in the footsteps of the bullfighters; passing through the different "patios" and even the Capilla de los Toreros chapel, before reaching the highlight of the visit, looking up at the stands from the ring itself.
At the end of the visit, you can visit two exhibition rooms, which explain the evolution of bullfighting over the years.
An Imposing Building
The Maestranza Bullring is an impressive building that holds the memories of some of the most important moments in the history of bullfighting.
For bullfighting aficionados, the history and grandeur of this bullring speak for themselves and this is undoubtedly an essential visit when in Seville. However, if you're not particularly interested in the world of bullfighting, it may not be a particularly interesting place to visit.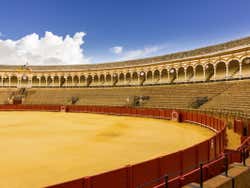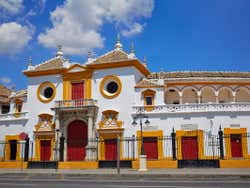 Schedule
November to March: from 9:30 am to 7 pm.
April to October: 9:30 am to 9 pm.
Days with bullfights: 9:30 am to 3 pm.
Price
Adults: € 8 (US$ 8.80)
Over 65s and students: € 5 (US$ 5.50)
Children aged 7-11 years: € 3 (US$ 3.30)
Under 6s: free entrance.