Palace of the Countess of Lebrija
Hidden behind a typical Sevillian façade, the Palace of the Countess of Lebrija is a magestic construction full of fabulous art work and is one of the city's most striking hidden treasures.
Bought by Regla Manjón, Countess of Lebrija, a woman ahead of her time with a passion for art, this palace has an impressive heritage and history to discover.
The Countess spent her life protecting each and every piece of art that fell into her hands, and she decorated her house with all the artistic elements she gathered over the years. In fact, the collection is home to one of the most complete collections of Roman mosaics in Spain.
Exploring the Palace of the Countess of Lebrija
The ground floor is spread out around a patio and is home to priceless pieces including amphoras, sculptures, paintings, elegant furniture, eye-catching mosaics, beautiful Roman pieces, tiles recovered from convents and palaces in ruins, collections of fans and porcelain, valuable paintings and numerous items from daily life at the time. 
Surprisingly, some of the rooms on the first floor are practically intact, as if time had stood still. In this area, you can visit the chapel, the library, a bedroom, and a dining room, where you can still see the table set and ready as if the family was going to sit down and eat at any moment.
The first floor can only be visited on a guided tour. There are guided tours once an hour.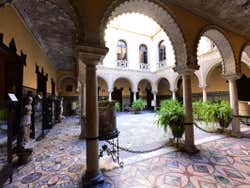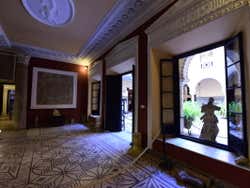 Schedule
Daily from 10 am to 7 pm
Price
Adults: € 12 (US$ 12.80)
Children 6-12 years old: € 6 (US$ 6.40)
Transport
Bus: lines 10, 11, 12, 13, 14, 15, 20, 21, 23, 24, 25, 26, 27, 30, 31, 33, 34, 35, 40, 41 and 42.