Palace of the Dukes of Alba
Built between the 15th and 16th centuries, the Palace of the Dukes of Alba, or the Palacio de las Dueñas as it's known in Spanish, is an impressive building full of artwork that belongs to the House of Alba. These days, it's one of the most visited tourist attractions in Seville.
The Palace of the Dukes of Alba was built by the Pineda family, but they were unfortunately forced to sell it urgently to raise ransom money after Juan de Pineda was kidnapped by the Moors.
If the walls could talk, there would never be a quiet moment in this palace, with stories of the famous figures that have passed through the house throughout history. They, of course, include the most illustrious tenant, the Duchess of Alba, and the great poet Antonio Machado, who was born and spent part of his childhood in the palace.
Visiting the Palace
The palace is a work of art in itself, it has an important historical, architectural, and artistic value and it houses an extensive and varied collection including furniture, ceramics, antiques, numerous paintings, and a myriad of family memories that can be seen throughout.
Without a doubt, the palace's pièce de résistance are the beautiful patios and gardens, with dense vegetation including over seven thousand plants, featuring orange and lemon, and palm trees.
When you visit the Palace of the Dukes of Alba, you lose the notion of time, and it gives visitors a sense of complete calmness.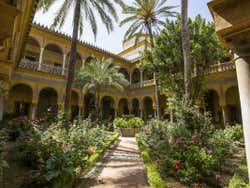 Schedule
From April to September:
Every day from 10 am to 8 pm
From October to March:
Every day from 10 am to 6 pm
Price
Adults: € 12 (US$ 12.80)
Students and seniors over 65: € 10 (US$ 10.70)
Children under 6: free entrance
Mondays after 4 pm: free entrance