Casa de Pilatos, or Pilate's House, is a lavish palace showing Seville's exuberant past, with an attractive mixture of the architectural styles that can be seen all over the city.
As time has gone by, the palace has undergone several transformations that have turned it into a lavish residential complex with a picturesque, harmonious appearance in which Renaissance, Mudejar, Medieval and Gothic styles come together with some beautiful Moorish touches.
Throughout its history, the palace has featured in various Hollywood productions, such as Kingdom of Heaven and Lawrence of Arabia in 1942.
Visiting the Palace
After entering through the Renaissance-style marble door, the two-storey palace spreads out around a typical Andalusian patio, beautifully decorated with fountains and statues.
As you explore the Casa de Pilatos, you'll discover a small art gallery that houses outstanding pieces, such as Greek and Roman statues, tapestries, furniture and paintings by renowned artists, such as Goya.
In the gardens, you'll find a true oasis of tranquillity, where you'll be able to forget about the hustle and bustle of the city.
A Visit That Doesn't Disappoint
Casa de Pilatos is the largest private palace in Seville and is considered as the perfect prototype of an Andalucian palace, therefore it is definitely worth a visit.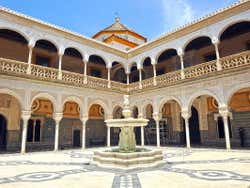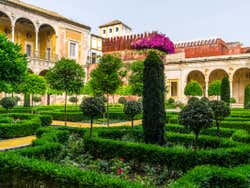 Schedule
From November to March:
Every day from 9 am to 6 pm.
From April to October:
Every day from 9 am to 7 pm.
Price
Full entrance: € 12 (US$ 12.90)
Ground floor entrance: € 10 (US$ 10.80)