The Museum of Fine Arts of Seville was opened in 1841 with pieces looted from convents and monasteries during the Confiscation of Mendizábal. Since then, it hasn't stopped growing and it is now one of the most important art galleries in Spain.
Although the museum was opened in 1841, it is actually housed in a magnificent building which used to be a convent and dates back to 1594. The splendour of the façade acts as an excellent amuse-bouche to the treasures found on the inside.
The Museum at a Glance
The Museum of Fine Arts has 14 rooms ordered chronologically that offer a journey through the artistic history of the country, including sculptures from all over Spain, especially Seville.
It's no surprise that the religious works from the Baroque period particularly stand out, most of which were collected during the Spanish Confiscation.
The most notable artists include Zurbarán, Goya, El Greco, and Juan de Valdés Leal, although there is no doubt that the star of the museum is Murillo; areas of the museum are dedicated to him and there are even some temporary exhibitions on his work.
Recommendable
The Museum of Fine Arts of Seville is the second most important art gallery in Spain, after the Prado in Madrid, therefore we highly recommend visiting it on your trip to Seville.
If your time in Seville is limited, you can make a quick visit, and its central location and very economic entrance fee mean that you've got no excuses!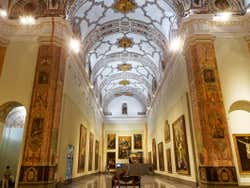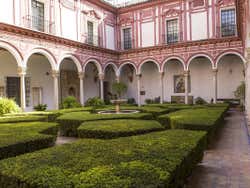 Schedule
Tuesday - Saturday: from 9 am to 9 pm.
Sunday and public holidays: 9 am to 3 pm.
Transport
Bus: lines C4, C3, C5, 6, 43, C3, 13, 14 B2 and B5.