Museum of Art & Popular Customs
Located in an exceptional building in the María Luisa Park, the Museum of Art and Popular Customs shows visitors traditional Andalusian culture from a simple and dynamic perspective.
The museum is housed inside the Mudejar Pavilion, an impressive building in Plaza de América, within the María Luisa Park, which was designed for the Ibero-American Exhibition of 1929.
The Museum at a Glance
The Museum of Art and Popular Customers was designed to display the customs and the way of life of the elements displayed. As such, you don't just see the objects displayed, but the museum aims to "bring them to life" so that they speak for themselves.
Among the museum's most notable collections, you can see beautiful ceramics, traditional dresses, incredible jewellery and gold work, popular musical instruments, lace and embroidery and objects as special as posters for festivities, collections of games and postcards.
An Interesting Visit
Located within the María Luisa Park, a must-see on any trip to Seville, this is a nice museum which does not take too much time to visit.
Opposite, you'll find the Archaeological Museum, which is another interesting option if you want to make the most of your time in the area.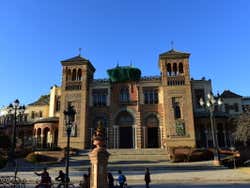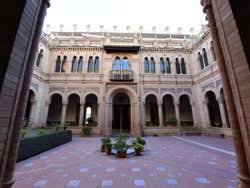 Schedule
From 30th June to 31st August:
Tuesday - Sunday: from 9 am to 3 pm.
Monday: closed.
From 1st September to 30th June:
Tuesday - Saturday: from 9 am to 9 pm.
Sunday and public holidays: from 9 am to 3 pm.
Monday: closed.
Price
Entrance: € 1.50 (US$ 1.60)
Free entrance for accredited EU citizens and students with international student ID.
Transport
Metro: San Bernardo and Prado de San Sebastién, line L1.
Bus: lines 1, 3, 6, 30, 31, 34 and 37.