Hospital de los Venerables
Located in the central neighbourhood of Santa Cruz, the Hospital de los Venerables is an impressive Baroque building built between 1675 and 1697 to house the old, the poor and retired priests.
The Hospital de los Venerables was founded in 1627 and was used until it was pillaged during the French invasion. In 1840, part of the building became a textile factory and residents were forced to leave until the factory was eventually closed and the former residents could return.
Discovering the Hospital
Both the hospital and its church are excellent examples of the cheerful Baroque architecture that is so characteristic in Seville.
The hospital's two-storeys wrap around a beautiful central patio with a fountain and various orange trees. Although, the most interesting thing to visit is undoubtedly the church; one of the city's most striking religious buildings.
Once you walk through the church door, you'll be taken aback by the unique paintings covering the vault and walls, and the main altarpiece dating back to 1889.
Interesting, But Not Essential
Visiting the Hospital de los Venerables doesn't disappoint, as it is one of the most interesting architectural buildings in Seville and has been declared as a Building of Cultural Interest since 1971. However, with so many unique buildings that are worthwhile visiting in Seville, we suggest analysing all the options with regard to how much time you're going to spend in the city.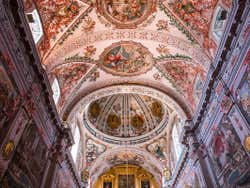 Schedule
March to June: 10 am to 8 pm.
July and August: 10 am to 2 pm and 5:30 pm to 9 pm..
September to November: 10 am to 8 pm.
December to February: 10 am to 6 pm. 
Price
Adults: € 10 (US$ 10.40)
Students and over 65s: € 8 (US$ 8.30)
Under 12s: entrada gratuita.