Located in the central Plaza de la Encarnación square, the Metropol Parasol, also known as the Setas de Sevilla (Seville Mushrooms), is an intringing monument made up of an extense modern wooden structure which is home to an incredible viewpoint and just below it has a valuable archaeological space.
The impressive and peculiar structure of the Metropol Parasol is some 490 x 229 feet (150 x 70 metres) large and 88 feet (26 metres) high, over which it has 820 feet (250 metres) of walkways which offer incredible panoramic views of the city.
Underneath the Metropol Parasol, there is the Antiquarium; a valuable archaeological space with important Roman, Visigoth and Islamic ruins.
A Walk Through the Skies
Despite being built fairly recently (in 2011), the Metropol Parasol has become an important tourist attraction in its own right.
At first sight, it's quite stunning, with its modern architecture giving the impression that it doesn't belong in this traditional neighbourhood, but, when you walk over its walkways and enjoy its viewpoints, you discover its hidden charm and the way it seems to be at one with the square.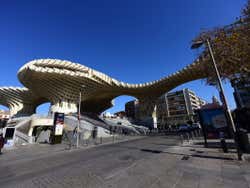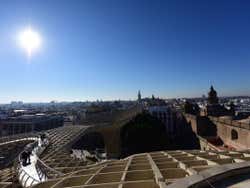 Schedule
Monday to Sunday: from 9:30 am to 12 am (open until 12:30 am in summer)
Price
Adults: € 15 (US$ 16)
Students and seniors over 65: € 11 (US$ 11.80)
Children under 5 years old: free admission