Located under the Metropol, in the central Plaza de la Encarnación square, the Antiquarium is a valuable archaeological space, that contains important Roman, Visigothic and Islamic relics.
These archaeological remains of the Antiquarium were found purely by chance when an underground car park started to be built in the square. After being removed as carefully as possible, the museum was opened in 2011.
Visiting the Antiquarium
The archaeological space allows you to discover around 16,000 square feet (5,000 metres) of excavations, by means of various walkways that wind around the ruins of different Roman streets and houses from different centuries, as well as mosaics, fountains and countless ancient elements.
Interesting, But Not Essential
The Antiquarium tells an important part of the history of Seville, which enables us to better understand the city as it is today. The exhibitions are really interesting for archaeology aficionados, and it is fairly cheap to enter, but if you just want to have a quick look, you can see a fair amount through the windows without having to go inside. As it is located right underneath, you could take a peek on your way to visit the Metropol.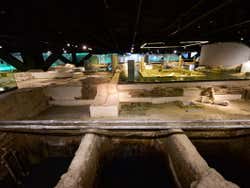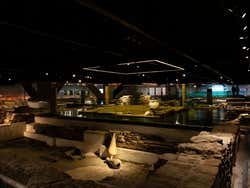 Schedule
Tuesday - Saturday: from 10 am to 8 pm.
Sundays and public holidays: from 10 am to 2 pm.
Mondays: closed.
Price
Adults: € 2 (US$ 2.10).
Under 16s: free.