Constructed on the ruins of the Ibn Adabbas mosque, the Divine Salvador Church (Iglesia del Divino Salvador) an impressive Baroque structure and the largest religious building in Seville, after the Cathedral.
The church's main façade stands tall in Plaza del Salvador, one of the central hubs of the city which, throughout its over 2,000 years of history, has been home to Roman mansions, a mosque, fruit and veg and various other stalls, a hospital, and even the city's old cemetery.
Discovering the Divine Salvador Church
Beyond the grand façade of the Divine Salvador Church lies a large temple with a particularly noticeable 18th-century Baroque organ and various altarpieces with a great deal of artistic value. 
The church has a particularly beautiful outdoor area, known as the Patio de los Naranjos, where you can still make out the ruins of the old mosque.
An absolute must-see
If you're going to visit a church in Seville, it should be this one. Its size and uniqueness make it one of the most special religious buildings in the city. Plus, its central location means it's easy to visit.
We recommend visiting the church as soon as it opens, as queues often form. Entrance to the church is included with entrance to the Cathedral and Giralda.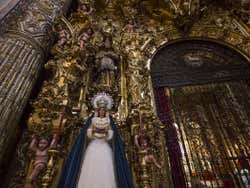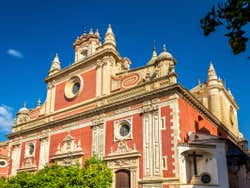 Schedule
From Monday - Saturday: 10:15 am to 6 pm
Price
Adults: € 4 (US$ 4.30)
Children under 15 years old: free entrance
Cathedral + Giralda + Divine Salvador Church: € 12 (US$ 12.80)