With a surface area of 34 hectares, the María Luisa Park is the green heart of Seville, one of the prettiest parks in Spain and one of the most-loved places in the city.
This spectacular park was created as part of the gardens of the Palace of San Telmo and was donated to the city at the end of the 19th century. After being donated, the gardens were effectively forgotten about and become somewhat wild until they were restored for the Ibero-American Exhibition of 1929.
At this point, they reached their utmost splendour and became one of the most emblematic and appreciated public spaces in the city.
A Stroll through the Park
María Luisa Park is full of magical spots worthy of getting lost in. Lakes with ducks and small bridges, manicured gardens and beautiful avenues lined with historical monuments and buildings.
You could spend hours and hours in the park and not see everything, but the following are the most recommendable places to visit:
Plaza de España: this beautiful brick building was built for the Ibero-American Exhibition of 1929 and is one of the most visited places in the park and the city.
Museum of Art and Popular Customs: housed in a grand building also built for the Ibero-American Exhibition of 1929, this museum displays traditional Andalusian culture in a simple yet dynamic way.
Archaeological Museum of Seville: this is a must-see for history and archaeology lovers that want to find out more about Seville's past and how it has influenced its present.
The park is very large, so many visitors decide to explore it by bike or by horse and cart.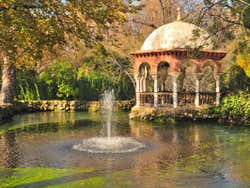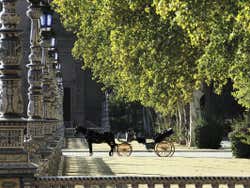 Transport
Bus: lines 1, 3, 6, 30, 31, 34, 37, A5, A6, and C2.
Metro: Prado de San Sebastián, line L1.
Tram: Puerta de Jerez, line T1.